My love affair with the Mini began seven years ago when my parents bought me a 1981 Mini City as my first car (I still have it, although it's not my main car anymore).
Some people didn't understand why I would want an 'old' car as my first car but growing up with a dad who is passionate about classic cars (he has many) meant that his passion was bound to rub off on me. When I saw a little yellow mini pull up outside my house one day it was love at first sight.

The BMC Mini, launched in 1959, defined a new genre. Never before had a car used front wheel drive and transverse engines in such a small space and the interior space was staggering (if I had a £1 for every time someone exclaimed "oh my god there's so much space" whilst being in my car I would be a rich lady).


Nippy and easy to park, it quickly became fashionable to own a Mini. The legendary Mini-Cooper launched in 1961 went on to become a great racing car (Mini Cooper's won the Tulip Rally in 1962 and 1963 and the Cooper "S" was all conquering in British saloon car racing).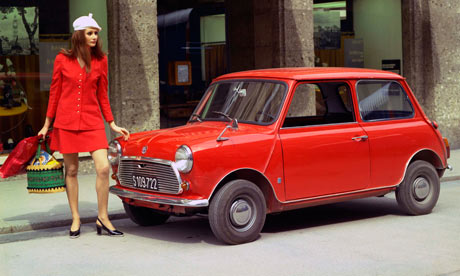 I just love my little Mini, people know me because of my car and I often get people stopping to talk to me about it wherever I go (more often than not when I'm trying to fill it up at a petrol station!). I can't wait to start nipping around town in it again once it has been fully restored.
x